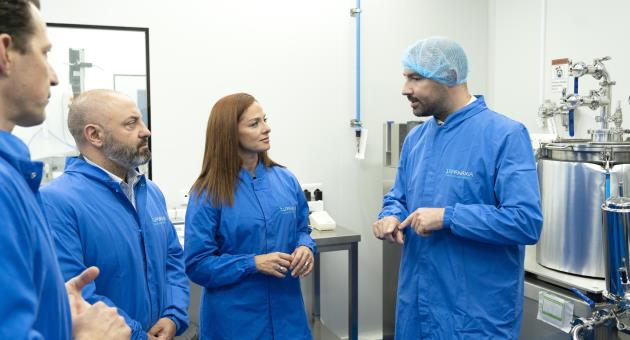 An Israeli medical cannabis company, Panaxia, has announced a €6 million investment and is set to deepen its connection with Malta as it plans a further expansion to its local production plant – thus increasing its capital investment.
This was announced during a visit to Panaxia's Ħal Far plant by Minister for the Environment, Energy and Enterprise Miriam Dalli. The company has just obtained the GMP license for the facility in Malta upon the completion of the first phase of investment and will export their first products to Germany in the coming weeks.
Apart from the Malta plant, Panaxia operates from locations within the United States, Canada and South Africa, while also being in the process to register products in Portugal, Greece, Poland and Brazil amongst others. Its range of pharmaceutical products, over 60 in all, are mainly based on cannabis plant extracts and treat a variety of ailments including nausea, anxiety and depression.
Panaxia aims to enrich the Maltese production portfolio with products aimed for both Europe and Latin American markets. The Malta facility will therefore diversify into an array of products ranging from production of tablets, oil and extract production, as well as clinical trials, stability experiments and research and development.
During the visit, Minister Dalli, whilst thanking Panaxia for their trust in Malta's jurisdiction, described Panaxia as an early success story for one of Malta's newest economic niches.
"Malta Enterprise has been in discussions with Panaxia since the early days after the enacted legislation in 2018. Today, Panaxia is only marking the start of its actual production, but it is already planning an expansion in its facilities. This is another milestone reached for our medical cannabis industry – an industry which further enriches our wider pharmaceutical sector. Malta is the ideal location for such operations, whereby specialised products are developed for the global healthcare supply chain," Minister Dalli said.
Dadi Segal, CEO of Panaxia, expressed his appreciation towards the company's local team and thanked Malta Enterprise for its support; "I am impressed with the role of Malta Enterprise in their support to our Malta team at Panaxia on various levels, not just the financial assistance but also the constant communication and facilitation. We had to build this facility from scratch and the process was long but soothed through Malta Enterprise's constant guidance."